INFORMATION ON TextMyGov
USDA NONDISCRIMINATION STATEMENT
TEXARKANA WATER UTILITIES
FALL CLEAN UP
October 13-14, 2023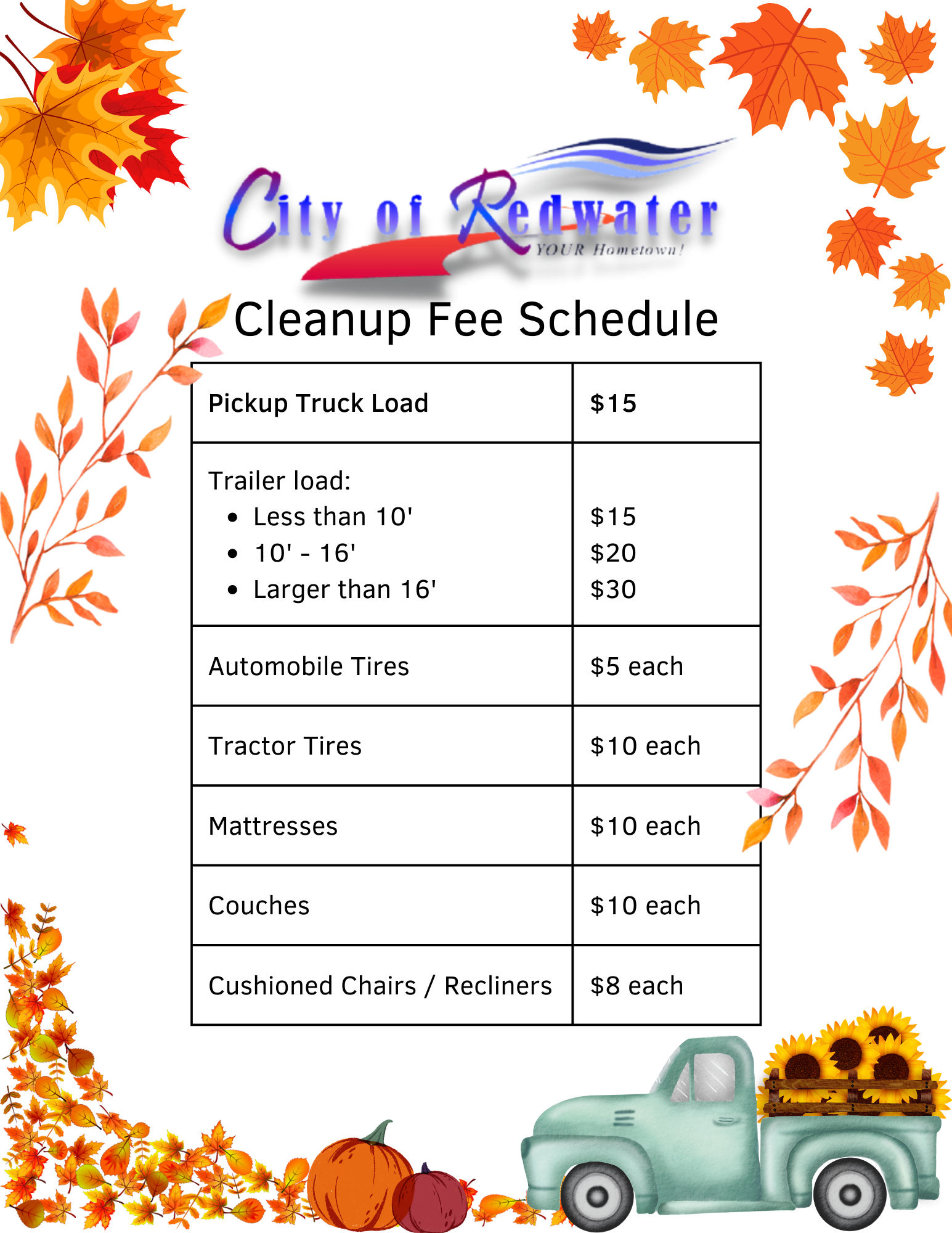 Click the link above to visit RISD website.
Phone: 903-671-3481
Fax: 903-671-2019
Address: 202 Red River Rd N, Redwater, TX
The City of Redwater is a small town with big values. If you like a casual, sometimes hectic work environment, consider coming to work for us! The City of Redwater is an equal opportunity employer.
Complete the application for employment below and submit to the City Secretary's office either in person or by email.
CONTACT
Redwater City Hall
120 Redwater Blvd W
PO Box 209
Redwater TX 75573-0209
903-671-2775
FULL-TIME BENEFITS
Retirement Program
Group Insurance - Medical/Vision
Paid vacation & holidays
Uniforms provided for Public Works employees
On the job training
CURRENT JOB OPENINGS
Water / Wastewater Operator
City of Redwater
Redwater, TX, United States
Submit application & resume to: city@redwatertexas.com
or deliver in person or by mail (addresses on Home page)
Job Type: Full-Time
Minimum Education: High School Diploma / Equivalent
Minimum Experience: 2 years
Salary: DOE
Description:
The City of Redwater is seeking a full-time, experienced Water / Wastewater Operator. Must be a self-starter, have the ability to work independently and follow oral and written instructions. Preferred experience in the water and wastewater field, with the knowledge of operations of water distribution systems and wastewater treatment plants. Knowledge of rules and regulations for state and federal reporting preferred. Will be required to work on-call rotation, overtime as needed, assist other employees as needed and other assigned duties as they arise.
Requirements:
High School diploma or equivalent
Valid Texas Driver's License
Texas Class C Ground Water License
Texas Class C Wastewater License
Follow TCEQ guidelines and regulations
Additional accredited training courses in water / wastewater—preferred not required
Operation of heavy equipment
Pass drug screening
Pass background check
Benefits:
Medical Insurance
Vision Insurance
Paid Vacation & Sick Leave
TMRS Retirement
Paid Holidays
Uniform Service